Trinnov Amplitude 16 Power Amplifer
Inventory unavailable. Ships in approx 3 to 4 weeks.
Free Shipping
THE POWER AMPLIFIER FOR YOUR IMMERSIVE HOME CINEMA
Designed to our specifications in partnership with ICEpower, the Amplitude16 maximizes the performance of their class D modules with custom dual power supply and heat dissipation design.
The Amplitude16 is the most versatile power amplifier ever designed to address the varying needs of your immersive home theater.
Designed for immersive home theaters, with custom integration in mind, the Amplitude16 becomes perhaps the most versatile power amplifier available today, providing integrators with the unique ability to meet diverse channel counts and power requirements.
POWER HOUSE
Effectively two 8-channel amplifiers on a single 3RU chassis, the Amplitude16 has dual power supplies, each requiring its own 15A AC mains power inlet.
Maximum continuous power with all 16 channels driven is 2800W at 115V and 3200W at 230V with less than 0.1% THD+N.
Maximum peak power with all 16 channels driven is 6080W with 1% THD+N.
BRIDGE TO POWER
In its base model, it is a 16-channel power amplifier with a power rating of 200W/channel at 8 ohms and 400W/channel at 4 ohms.
Going beyond, the Amplitude16 provides the integrator with the option to bridge pairs of amplifier channels to increase available power for specific outputs.
This enables the integrator to maximize power for the channels with the greatest demand (left, center, and right screen channels).
In bridged mode, the power increases to 800W/channel at 8 ohms and over 1,000W/channel at 4 ohms.
EFFICIENT CONNECTIVITY
Balanced analog input is through dual Tascam pinout DB25 connectors, which eliminate the need for up to 16 individual XLR connections, making for a much more efficient connection and rack dressing.
A front panel LED display identifies normal operation, channel clipping, protection, and bridge status for each pair of channels. Trigger inputs and outputs are provided to power on the amplifier and to daisy-chain other amplifiers in the system.
PERFECT COMPANIONS
The input level sensitivity of the Amplitude16 matches perfectly the Altitude output level to maximize dynamic range and signal-to-noise ratio.
The importance of this trait cannot be over-estimated in a theater that may have twenty or thirty speakers in a single room. If each of those speakers were producing even a small amount of noise, it would rapidly become noticeable and unacceptable.
This scenario never arises with the Amplitude16
AUDIO OVER IP READY
Anticipating future advanced applications, another unique feature of the Amplitude16 is its optional Audio over IP input board, which provides an option for connecting the amplifier with networked audio. This board includes functions for monitoring the amplifier hardware status.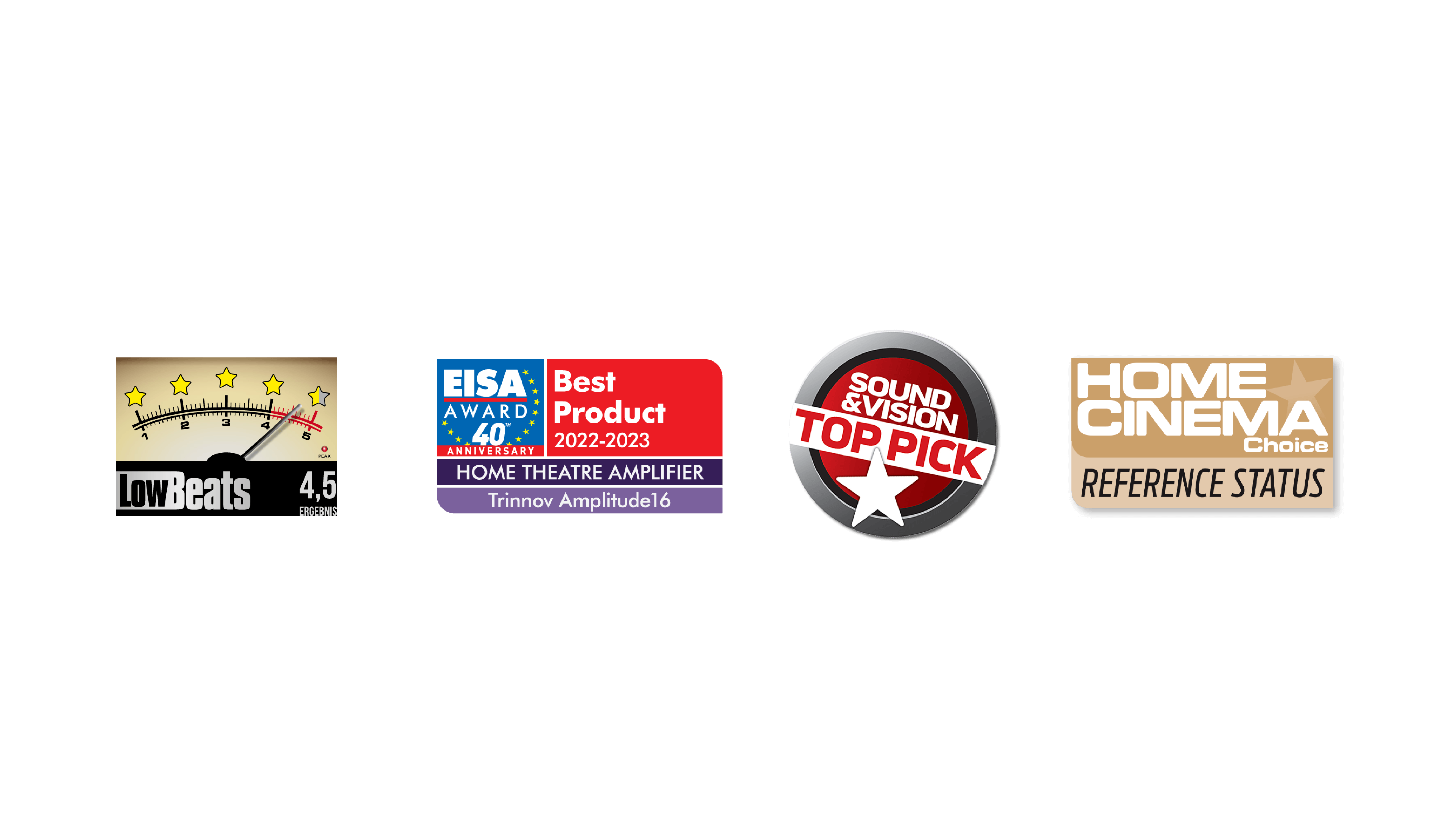 Features & Specifications
AUDIO POWER & GAIN
---
One Channel 8Ω:200W (1kHz, 0,1% < THD+N)
One Channel 4Ω:400W (1kHz, 0,1% < THD+N)
One Channel Bridged 8Ω:800W (1kHz, 0,1% < THD+N)
One Channel Bridged 4Ω:1000W (1kHz, 0,1% < THD+N)
Total Output Power (120 VAC):2800W all channels driven SE or BTL
Total Output Power (230 VAC):3200W all channels driven SE or BTL
Peak Power:6080W all channels driven SE or BTL
Gain:16 dB single ended / 22 dB bridged
AUDIO PERFORMANCE
---
THD+N Single Ended:0.0015% – 8Ω, 5W (2dBu)
THD+N Bridged:0.0015% – 8Ω, 20W (8dBu)
Frequency Response:+0/- 0,6 dB, 20 Hz to 20 kHz, load-independent
Damping Factor:2340 at 100Hz / 1820 at 1kHz / 354 at 10kHz
Signal to noise ratio:126 dB ref to rated 1% THD output (A-Weighted)
Crosstalk:96dB single ended 200W 8Ω
Intermodulation Distortion:Less than 0.05%
AUDIO INPUTS & OUTPUTS
---
Input Connectors:2x DB25 Female, Tascam Analog Pinout
Input Impedance:47 kΩ, each phase
Input Sensitivity:6.16V (+18dBu)
Output Connectors:1x 5 way binding post per channel
POWER SUPPLY
---
Power Requirement:2x 100/240V (auto-selecting)
Power Consumption:0,52W Standby; 125W idle; Max 2x 2000W
Power Input:2x IEC C14
Inrush current at startup:16A (<100ms, each inlet)
Thermal Conversion:683 BTU/h MAX
Mains Fuse:2x 10 Amp slow blow
12V Trigger Input:5-15 VDC; Steady State (mini-jack TS)
12V Trigger Output:8-10 VDC; Steady State (mini-jack TS)
WEIGHT & DIMENSIONS
---
Dimensions (W x H x D) mm, including rack ears:482 x 132 x 452
Dimensions (L x H x P) inches, including rack ears:19" x 5 1/5" x 17 4/5"
Shipping box dimensions (W x H x D) cm:54 x 53 x 22
Weight:20.5kg / 45.3 lbs
Shipping weight / volume:22.4kg / 0.064 M3
WARRANTY
---
Standard Warranty:5 year
Transferable:Yes