Trinnov Amethyst Stereo Pre-Amp with Optimizer
Inventory unavailable. Ships in approx 3 to 4 weeks.
Free Shipping
TRINNOV'S HIGH-END STEREO FLAGSHIP
The Amethyst preamplifier is Trinnov's flagship high-end stereo product. On a single chassis, it combines an audiophile preamp, active crossovers, high-quality 24 bit/192kHz DACs, a network renderer, and the world's most advanced speaker/room correction: the Trinnov Optimizer.
The Amethyst includes an 12 input preamplifier with built-in Speaker/Room Optimizer, Trinnov's innovative HybriD Phono Preamp, a Network Renderer, a 24 bit/192kHz DA Converter and a 2-way intelligent, active crossover engine. It also features built-in Wi-Fi connectivity for simplified operations making it the perfect centerpiece of any traditional or modern HIFI Installation.
Highly accurate, transparent and revealing as a pure preamp, the Amethyst elevates stereo playback through its state-of-the-art room correction system that reveals the best of your loudspeakers with incredible focus and imaging stability. High-resolution audio sources, up to 192kHz, are processed at their native sampling rates, never converted or down sampled.
With 64-bit floating-point processing, true signal integrity is assured, producing resolution greater than 320dB and enabling digital volume control without any loss of resolution. As the heart of your system, the Amethyst accommodates a total of twelve digital and analog sources, even including an analog phono stage for LP playback.
STRAIGHTFORWARD AUTOMATED PROCESS
Setup is guided by the Optimizer's calibration wizard, which enables system optimization in a matter of minutes.
The wizard creates five presets with different acoustic flavors to get you started. Further fine-tuning is available through a deep set of additional tools, with up to 29 individual presets available for saving custom settings.
WHY ROOM CORRECTION MATTERS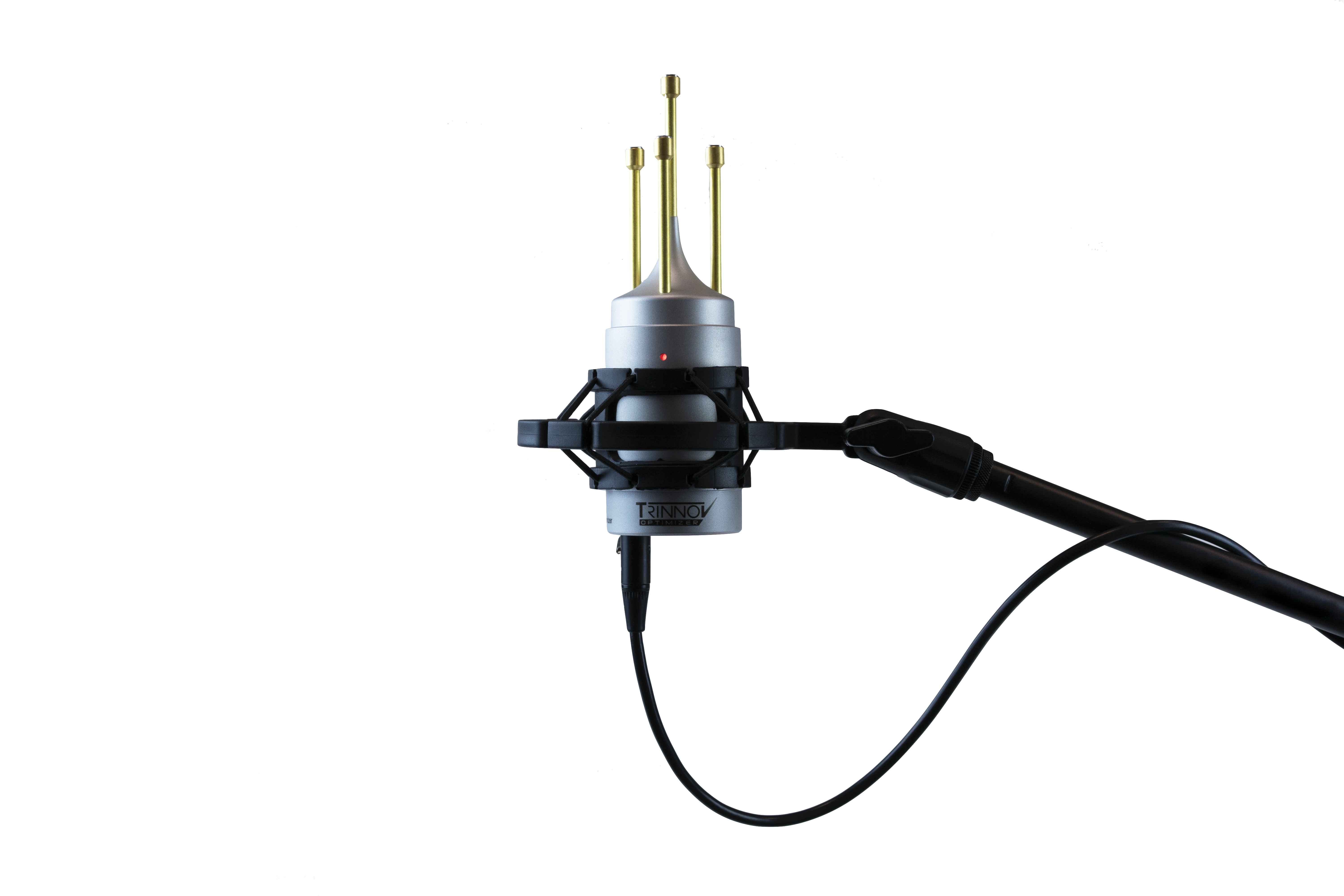 The Amethyst delivers an outstanding transparent sound and provides a versatile set of features as well as rich connectivity.
However, it stands out with its built-in state-of-the-art room correction system to ensure true-to-source sound reproduction in your listening environment.
REMOTE & NETWORK CONTROL
Any tablet, smartphone or laptop can control the Amethyst over a local network. Connection is available through Ethernet or Wi-Fi. The Amethyst can also act as its own Wi-Fi access point and is a network UPnP/DLNA player. An IR remote is also provided for more conventional operation.
MORE THAN 2 CHANNELS
The Amethyst provides four output channels for stereo playback, enabling active crossovers, intelligently calibrated, for bi amplified speakers, or bass management to drive one or two subwoofers.
The stereo channel configurations available are 2.0 with no subwoofer, 2.0 with bi amplified speakers, 2.1 with a single subwoofer or 2.2 with dual mono or stereo subwoofers.
ROON READY
Roon has become an industry standard for streaming high-resolution music to high-performance stereo and immersive audio systems.
The Amethyst, like all Altitude preamp/processors, is a Roon Ready network player, enabling you to enjoy your music through its direct Roon interface. Roon network playback utilizes the Amethyst's exceptional internal clock, ensuring the highest possible audio quality.
Features & Specifications
DIGITAL AUDIO CONNECTIVITY
---
S/PDIF Inputs:x4 (2 optical, 2 coaxial)
S/PDIF Outputs:x2 (coaxial)
AES3 Inputs (XLR):x2
AES3 Outputs (XLR):x2
Wordclock (BNC):x1 Input, x1 Output
ANALOGUE AUDIO CONNECTIVITY
---
Balanced inputs (XLR):x4
Unbalanced inputs (RCA):x4
Balanced outputs (XLR):x4
Unbalanced outputs (RCA):x4
Phono input (RCA):1x Stereo (switchable phono / Line)
AUDIO PROCESSING
---
ADC Resolution / Sampling Rate:24 bits/96 kHz
DAC Resolution / Sampling Rate:24 bits/192 kHz
A/D signal-to-noise ratio:119 dB (A-Weighted)
D/A signal-to-noise ratio:118 dB (A-Weighted)
Clock / Jitter:attenuation > 50 dB is above 100Hz
HARDWARE
---
Processor:Intel Dual-Core 1.8 GHz
Data prescision:64 bits, floating point
Cooling system:Custom heat sinks + additional slow fans
Safety components:AntiPop relays on each analog output
POWER SUPPLY
---
Power requirement:230V / 110V – 50 / 60 Hz (Manual Switch)
Power consumption:40W
Mains fuse:1A Slow-Blow
Internal PSUs:Independent for audio and processing sections
WEIGHT & DIMENSIONS
---
Dimensions (W x H x D) mm:441 x 97 x 418
Dimensions (W x H x D) inches:17 3/8″ x 3 7/8″ x 16 1/2″
Shipping box dimensions (W x H x D) cm:74 x 59 x 28
Weight:9.4kg
Shipping weight / volume:14.9kg / 0.122 m3
WARRANTY
---
Standard Warranty:5 year
Transferable:Yes
CHASSIS
---
Standard Color:Silver
Optional Color:Black